Sturgeon Fishing In BC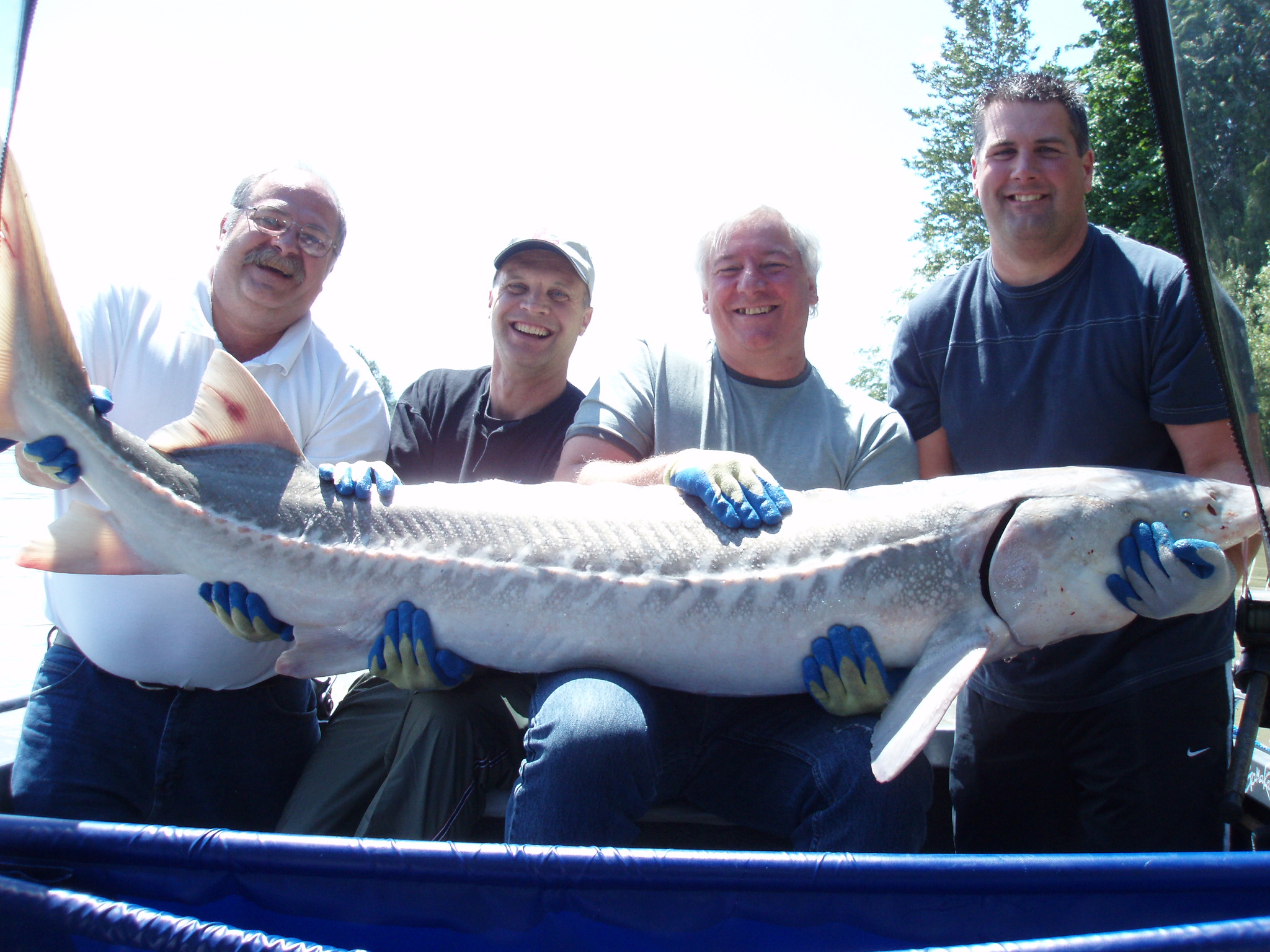 Sturgeon Fishing In British Columbia, you can.  We can help you find 'em.   Want to experience the ancient, the ferocious, the mammoth fresh water Sturgeon?  A two-person operation, taking down one of these six or seven-foot 'dinosaurs' is an indescribable experience; from the first hit to the anchor's release and the big chase, there is no rivaled sport in British Columbia!  And it takes place in our backyard, the mighty Fraser, grounds for world-class Sturgeon fishing adventures second to none (March 1 to December 15 ideal).  A quality photo of you and your sturgeon is provided at no charge.  This is a catch and releases fishing experience, and the best the Fraser Valley has to offer.  Drop in your 130-pound test line, and away we go!
Sturgeon Fishing Guides Fraser River
Sturgeon fishing in the Fraser River will put you in touch with the worlds largest freshwater sports fish, the white sturgeon. Its size and power are hard to describe!
This is what sturgeon fishing in British Columbia is all about. This fishing in BC adventure is only for the strong of heart and the strong of body. British Columbia's sturgeon is a wild, strong, feisty, prehistoric fish that will compare to any other game fish in the world. With aerial leaps and quarter mile runs you will soon learn that sometimes you're not as big and tough as you think. Take the challenge, bring your buddies, and experience a true fishing adventure.
Our sturgeon fishing area ranges from the mouth of the Fraser River at Steveston (only 20 Minutes from Vancouver International Airport) right up to the Fraser Canyon and the base of Hell's Gate. We fish the Pitt, Stave and Harrison Rivers as well.
White sturgeon are present in the mighty Fraser River and its tributaries 12 months of the year. They are willing biters and great fighters at any time. The Fraser River has a very strong population of sturgeon ranging from 2 to 12 ft in length and can reach weights of over a thousand pounds. Since British Columbia sturgeon fishing has become a catch and release only, we are seeing a great rebound with multiple fish days being the norm. All Chad's guides scan and tag sturgeon for the Fraser River Sturgeon Conservation Society.
Get out and enjoy a sturgeon fishing trip today!
Sturgeon Fishing Charters Bookings
Our guided Sturgeon Fishing Charters has proven to be a reward program that benefits everyone. Spending a day on the water could bring you a fish of a lifetime; it also provides an opportunity for you to network with key people to build lasting and memorable relationships that are important to you in business and personal life.