Fraser River Fishing Guides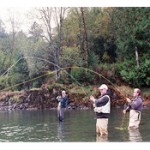 A sports anglers dream where five rivers offer world-class fishing for salmon, sturgeon, steelhead and trout, year round. It's difficult to find a comparison to the great fishing, fantastic scenery, easy access and full-service facilities than the area called Chilliwack, B.C., the fishing center of the Fraser Valley. On any of these rivers, you can see mother nature at it's best. Bald headed Eagles soar overhead while you enjoy the peace and serenity of clear mountain water making it's way to the sea. Mountains and forests surround you leaving you with a sense of awe. All this to enjoy while feeling the excitement of fighting some of the best game fish on the planet.
Fraser River
The Fraser river nearly 1000 miles long is the largest salmon producing river in the world, boasting huge runs of all five species of Pacific salmon. It is also home to the largest freshwater fish in North America called the White sturgeon. The geographic area 65 miles east of Vancouver, B.C. where a number of tributaries rivers joining the Fraser offer a variety of unique angling opportunities.
Chilliwack/Vedder
(approx. 30 miles) A tributary of the Fraser River entering near Chilliwack, with twenty miles of fishable river, this very successful hatchery river is one of the most productive in British Columbia. Ideally suited for float fishing or fly fishing in the lower section, this popular river has some of the best fishing found anywhere!
Chilliwack Lake
(6 miles long) Spring and fall Dolly Varden ranging up to 10 pounds.
Harrison River
Only 5 miles long, this piece of paradise drains Harrison Lake into the Fraser River. This large body of moving water doesn't have extreme currents or elevation changes, which provide a huge area to fly and spin fishing with consistently good water conditions. Summer and fall months usually mean a river full of fish which include all five salmon species, steelhead and excellent cutthroat fishing. Sea-run Cutthroat trout are best during the spring and fall, but are available most of the year.
Chehalis River
Beginning at Chehalis Lake a very mountainous, rugged valley that has limited access to the river. The lower river is very productive, after rain falls, for salmon and steelhead. Crowding is a problem in the lower section due to lack of fishable area. The upper river can be accessed by hiking or rafting.
Skagit River
This smaller watershed draining into Ross Lake reservoir is a fly anglers dream. July 1st is the opening day where fly fishing for wild Rainbows up to 20 and Dolly Varden char ranging to over 10 pounds are available from summer to late fall. Days spent on the Skagit do fly by with wonderful memories of great fishing and impressive scenery.
Pitt River – This rustic area above Pitt Lake has no vehicle access. A 20 – 30-minute boat ride brings you to the Upper Pitt River where rafting or jet boat trips for Coho, Chinook, cutthroat, and Dolly Varden give you the best outdoor adventure possible. Pitt Lake has great Trout and Char fishing during the spring and fall months.
Pitt Lake – Twenty miles of Cutthroat and Dolly Varden delight.
Stave River
The upper Stave River above Stave Lake has no vehicle access. Jet boat access brings you to excellent dolly Varden and rainbow fishing. Along Stave Lake, large cutthroat and dollies may be caught trolling or mooching. The lower Stave River below the lake has Cutthroat, Coho, and chum.
Stave Lake
Fifteen miles to enjoy Cutthroat and Dolly Varden.
Lillooet River
The primary season is early spring and then again in the fall. Starting in March, you may catch either Chinook salmon or Steelhead trout although there are not large numbers of fish and some years you won't see either species. Dolly Varden and to a lesser degree trout are very common in the spring. When the Sockeye smolt migration is happening, Dolly Varden fishing can be exceptional with upwards of 30 fish per angler per day. Angling will continue until late May when the river goes into spring freshet. The river will stay this way until the early fall. At this time Coho and dolly fishing can be good. There is also a small run of Chinook salmon similar in size and timing as the lower Harrison River fish.